By Wayne Otto
College Basketball Columnist
College Sports Journal
PORTSMOUTH, VA — The 61st annual Portsmouth Invitational Tournament is again the center of professional basketball for a four day run in the unlikely city of Portsmouth, Virginia, a neighbor of Norfolk.
The April 10-13 event, which has 64 of the nation's best collegiate seniors, is the only 5 on 5 post season event that enables the NBA, NBDL and foreign league team's to evaluate collegiate prospects in an all-star type setting.
Read more: Portsmouth Invitational Tournament: A springboard to success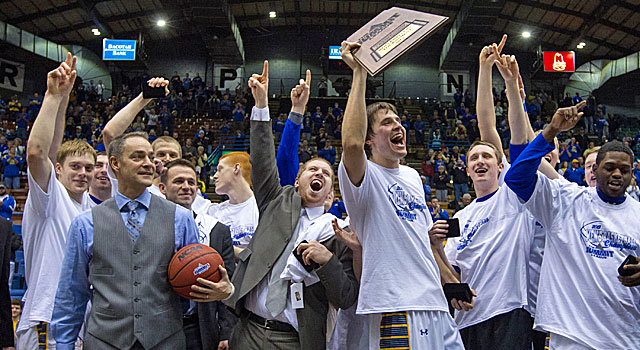 By Wayne Otto
College Basketball Columnist
College Sports Journal
SIOUX FALLS, S.D. — The South Dakota State Jackrabbits claimed the Summit League basketball championship for the second year in a row as Nate Wolters outdueled North Dakota State University and their star, Taylor Braun, in front of a sold out Sioux Falls Arena crowd of 6,544, 73-67.
Wolters — a Wooden national player of the year award finalist and also the conference player of the year — scored a game-high 27 points and grabbed six rebounds to go along with six assists and four steals to form an incredible stat line in the box score.
Read more: Summit League Tourney: SDSU Makes It A Daily Double With Repeat In Final
By David Coulson
Executive Editor
College Sports Journal
ASHEVILLE, N.C. — It is interesting what hindsight does with one's opinion.
Back in 1996, I was the sports editor of the Watauga Democrat in Boone, N.C. when the Southern Conference decided it needed to look at expansion in the wake of Marshall's move to what was then I-AA football and the Thundering Herd's departure for the Mid-American Conference.
I wrote a whimsical column on the three candidates for Southern Conference expansion called "The Good, the Bad and the Ugly," of course taking liberties with the title of the famous Clint Eastwood Spaghetti Western from 30 years earlier.
In my mind at the time, College of Charleston was the good, UNC-Greenboro was the bad and Wofford was the ugly.
Read more: College Of Charleston Heads To CAA With Loss To Davidson In SoCon Finale
By Wayne Otto
College Basketball Columnist
College Sports Journal
Sioux Falls, S.D.—The Summit League is up to its old tricks again.
The Summit League's championship basketball tournaments are creating some fan friendly basketball contests.
Flying just below the national basketball radar screen, the league has more than its fair share of quality teams and individual stars and they shined bright on the second day of quarterfinal play.
Read more: Summit League Tourney: IUPUI, NDSU Advance With Fan-Friendly Wins